Welcome to Mamaroneck Public Library!
GivingTuesday is here – please open your hearts and wallets and make a donation to help us continue to serve the Mamaroneck community.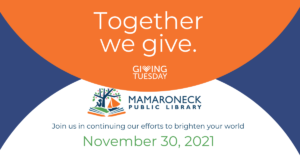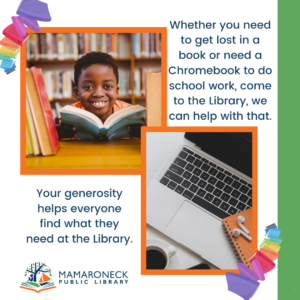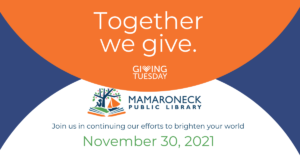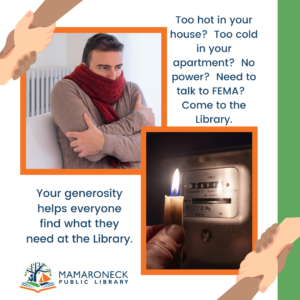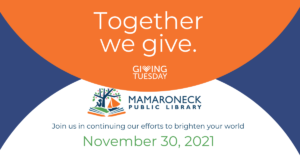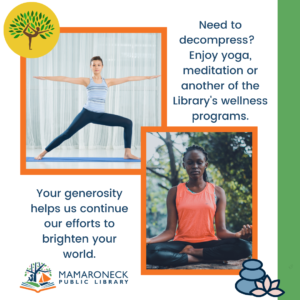 Please click here to donate.
""""""""""""""""""""""""""""""""""""""""""""""""""""""""""""""""""""""
The Mamaroneck Public Library District will hold its annual Budget Vote and Trustee Election on Wednesday, December 8, 2021 from 7am – 9pm
Absentee ballots are available at the Circulation Desk or you may email your application to msoto@wlsmail.org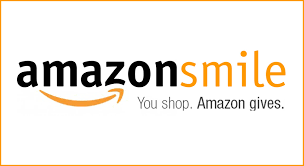 Good News – Your Amazon order can benefit Mamaroneck Public Library: Instead of going to www.amazon.com, begin your shopping by going to http://smile.amazon.com
On your first visit, choose 'Mamaroneck Public Library' as your favorite non-profit organization (use the search box).
Remember that you must begin your shopping at Amazon Smile in order for Mamaroneck Public Library to benefit. Any purchases you make through this program remain confidential.
We appreciate your support!!
New Mysteries and Thrillers
New Cooking, Food, and Wine Titles