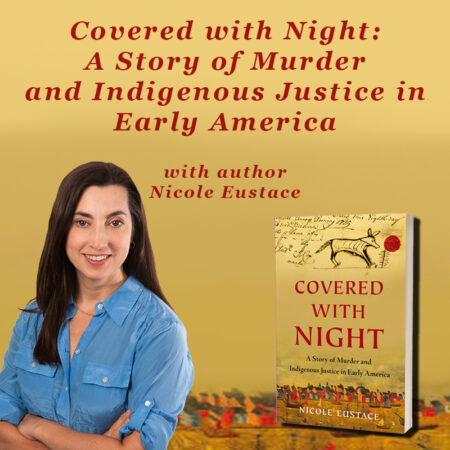 Mamaroneck and Larchmont Public Libraries invite you to join Nicole Eustace, author of Covered with Night: A Story of Murder and Indigenous Justice in Early America. Covered with Night tells a suspenseful tale of the clashing forms of justice demanded by Native Americans vs. English colonists when a pair of colonial American fur traders attacked a Seneca hunter and left him for dead deep in the backwoods of Pennsylvania in the winter of 1722. Colonists scrambled to arrest and imprison the murder suspects, promising to subject them to capital punishment if the men were found guilty at trial. But, when word of the attack reached leaders of the Five Nations of Haudenosaunee in New York, they demanded instead that colonists follow Native protocols, which focused not on crime and punishment, but on reconciliation, restitution, and community rebuilding. When the two sides finally met together in Albany, New York in September of 1722, they signed a peace accord laying out Native principles for history. Though the treaty has been nearly forgotten, it remains legally in effect; the principles it preserves have returned to new relevance amidst the justice debates of today.
Nicole Eustace is professor of history at New York University. She is the author of 1812: War and the Passions of Patriotism and Passion Is the Gale: Emotion, Power, and the Coming of the American Revolution. She lives in Larchmont.
To register, click here.