Welcome to the Children's Room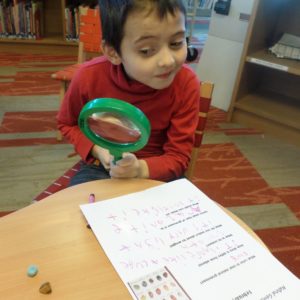 The Mamaroneck Public Library children's room is a happy welcoming place where children's imaginations run free and laughter fills the room. We are a destination for our young patrons and their families, nestled a block from the main street and near the beautiful harbor. We greet children by name and welcome parents, caregivers, and grandparents, all on a quest for a positive wonderful library experience. Parents appreciate that our room is filled with the newest books, classic favorites and resources to spark engagement. Babies through six grade students call this space their own.
Naturally, talking, singing and playing take center stage as children build at the Lego/Duplo table, play at the train table, or create meals in the pretend kitchen. New friendships are formed. Our Discover room is filled with a variety of puzzles, blocks and board games. Children can settle down into one of our unique nest chairs with their parents for a quiet read. Children have choices they can engage with whether it is a visit with the colorful fish in the tank, or watching the boats in the nearby harbor, they are happy here.
Children have access to a writing and coloring station, providing paper, crayons, stickers, glue sticks and scissors to complete a creative project. There is comfortable seating for parents and children and two private bathrooms with changing tables are conveniently located in the children's room.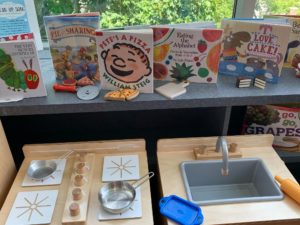 We are dedicated to raising a community of readers. The Children's room is home to a large collection of picture books, board books, beginning readers, beginning chapter books, fiction books, non-fiction books, graphic novels, audiobooks, magazines, DVD's and parenting materials. Our AWE's Early Learning stations are ideal for small children who are starting to learn about computers. Parents will love games that introduce children to important math, reading, writing, music, and science and art concepts.
Our team of children's librarians provide excellent reference assistance and  patron services.  Our programs engage children in all their senses while expanding their pre reading skills; talking, singing, and writing, playing and reading are all included in age appropriate activities in our programs. Story times are lively and often include shakers and scarves, felt stories, and puppets, for an interactive experience.
We embrace diversity and inclusion in our community and collection. Please visit often. This is your library and all are welcome!
Questions about the children's room? Email Terry Numa, Head of Youth Services  or call the Children's Department @ 914 630 5894.
Engaging Services for School Age Children

We provide a safe, welcoming and fun environment for school age children too. Year round school age children can find academic support whenever they need it, with homework resources and tutoring available online. There are five desktop computers with internet access to play games with a friend, do homework as well as printers available for those important school papers.  After-school programs engage students in STEM activities and mindful relaxing information learning. Mr. Pickles, a therapy dog visits weekly and this opportunity provides a stress free time to read to a very attentive listener. This age loves their young reader collection, series and graphic novels. They usually have particular reading genres and once finished with all that a favorite author has written, our staff can suggest read aloud and author alikes. We also can provide suggested reading lists. This year we have successfully launched book bundles.
New Books for Babies and Toddlers