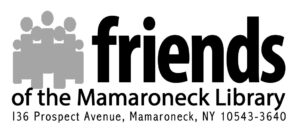 Charter
To materially support and enhance the library's services and to focus community awareness on the needs of the Library.
History
Friends of the Mamaroneck Library was formed in 1992 by a group of enthusiastic subscribers to solicit gifts, endowments, and memorials to the Library for a fund dedicated to supporting Library programs, events, and services.
Taxpayer funding for the Mamaroneck Public Library by itself does not cover the costs of all the cultural benefits that our Library provides to the community.  The Friends raise money to supplement the Library's funding through annual membership payments and fundraising events.
MONIES RAISED BY THE FRIENDS HAVE RECENTLY SUPPORTED THE FOLLOWING CULTURAL ENRICHMENT :
– Library Museum Passes
– Children's Department Summer Reading Program
– Adult and Teen Summer Crafts Programming
– Yoga Classes for Adults
– The popular children's Dawney Dew Program
– Timeless Songs of Broadway with singer Bonnie Rap
– Decoupage classes with artist Joycemarie Washburn
– Poetry workshops with poet Elizabeth O'Rourke
Due to Covid and other concerns, the Friends has gone digital. Now,  renew or join the Friends from the comfort of
 your home or office by clicking
If you choose not to join at this time but wish to donate to the Friends, click the
The Friends is a 503(c) corporation. Your gift is tax deductible to the full extent allowed by law.
Friends of the Library Board of Directors
Edward Zagajeski, President & Acting Treasurer
Sarah Evans, Vice-President
Helen Rosenberg, Recording Secretary
Joanne Clementoni, Program Director
Joan Shapiro, Director
Carol Vega, Director
Joycemarie Washburn, Director
PLEASE CONTACT US AT BoardFML@gmail.com